News and events
The CITR sponsors regular Research Colloquia.

Colloquia comes from the Latin colloqui meaning "to converse" and denotes a conversation or dialogue. We convene monthly research colloquia to share, support, critique and celebrate our research.
2022 Colloquium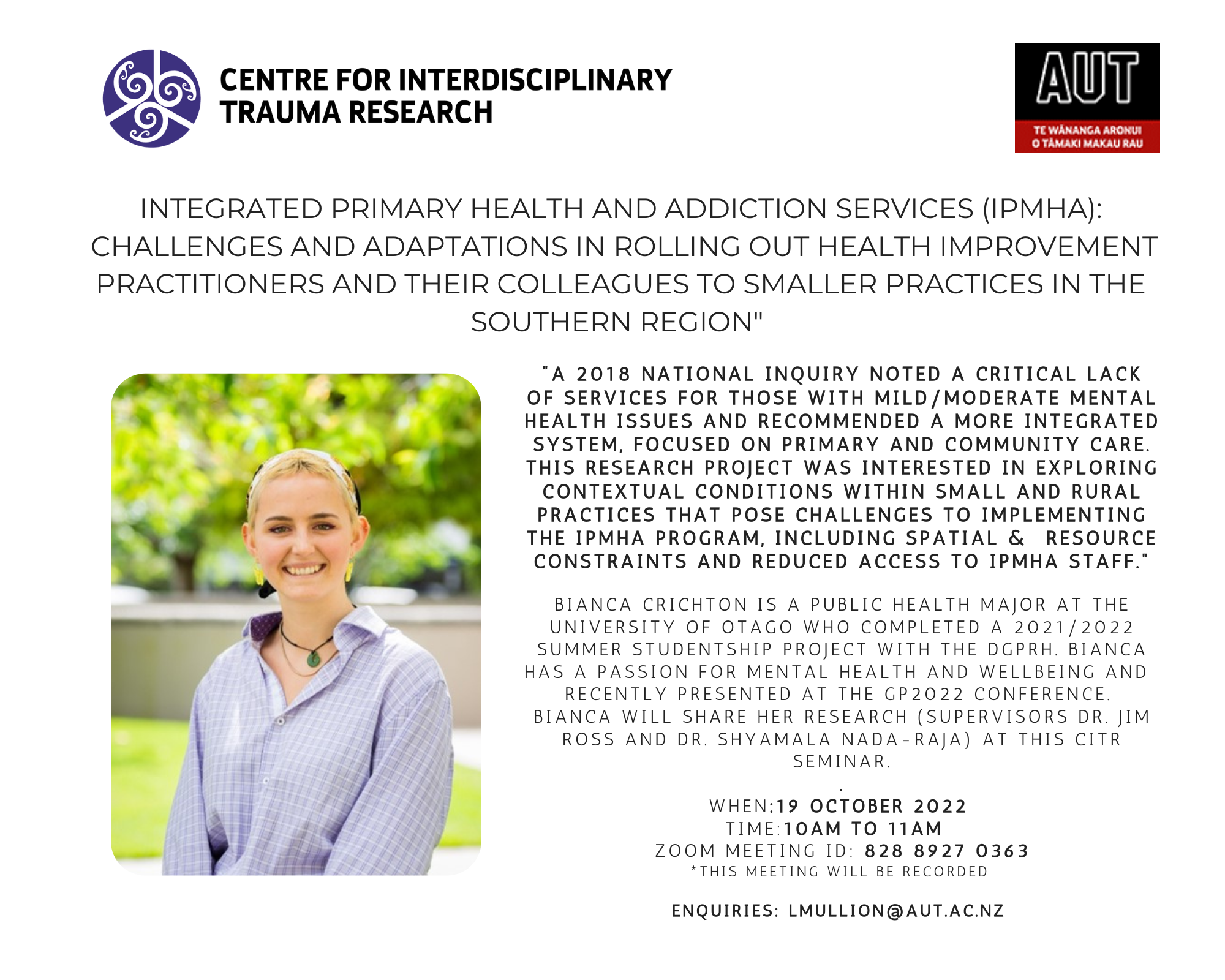 2021 Colloquium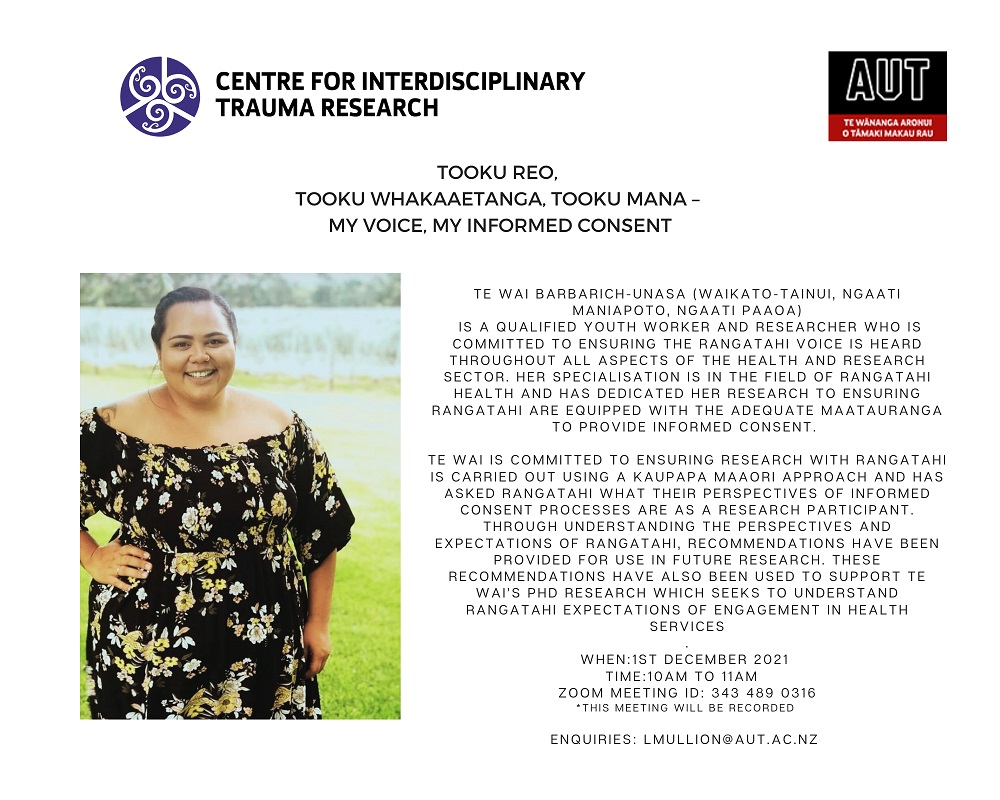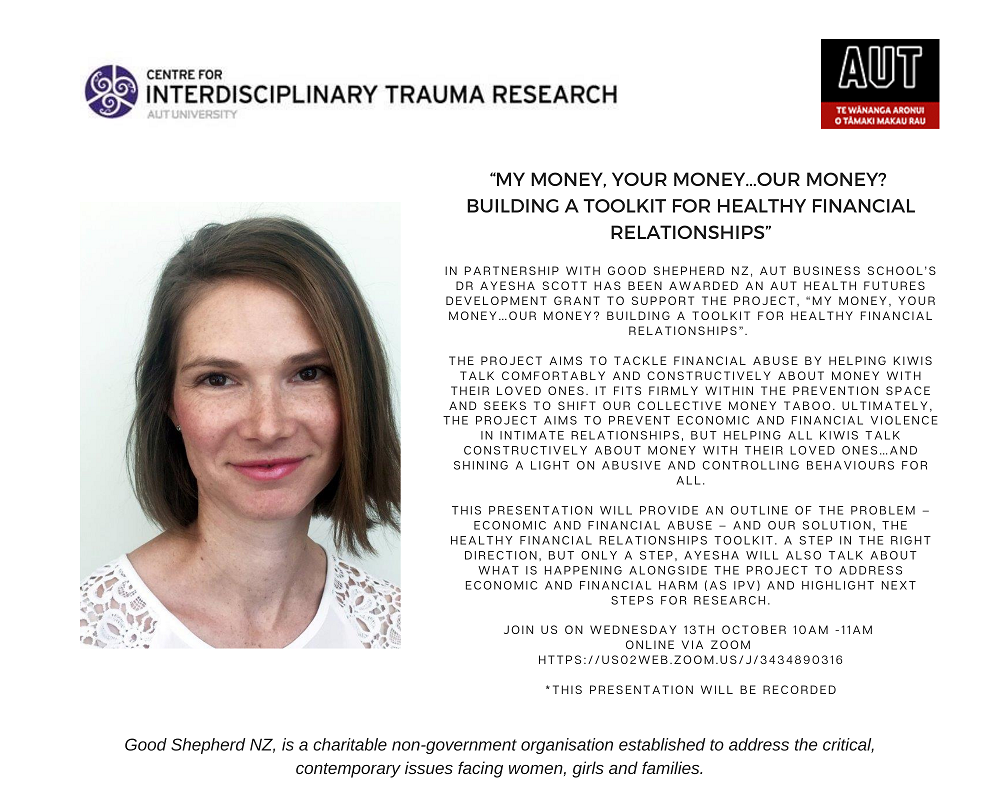 Dr Ayesha Scott Watch the recording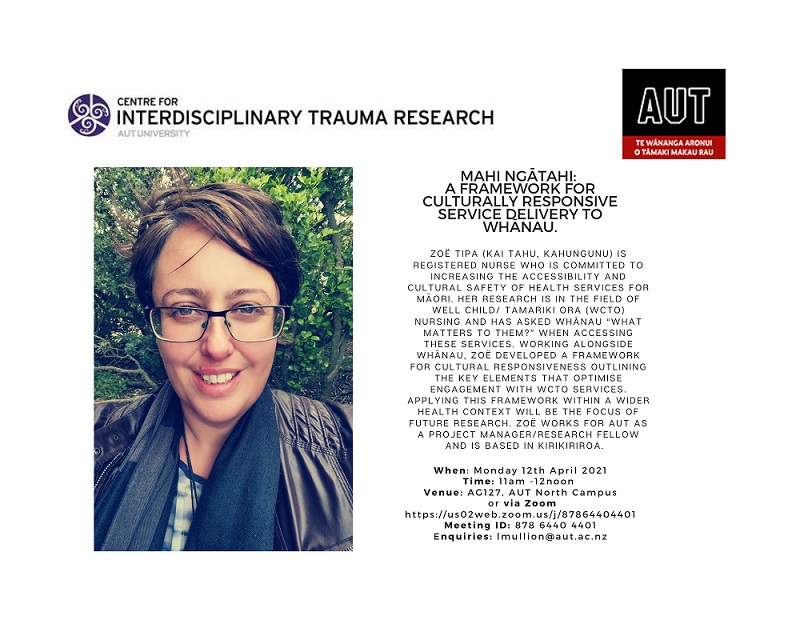 Dr Zoe Tipa (LinkedIn), Dr Zoe Tipa's website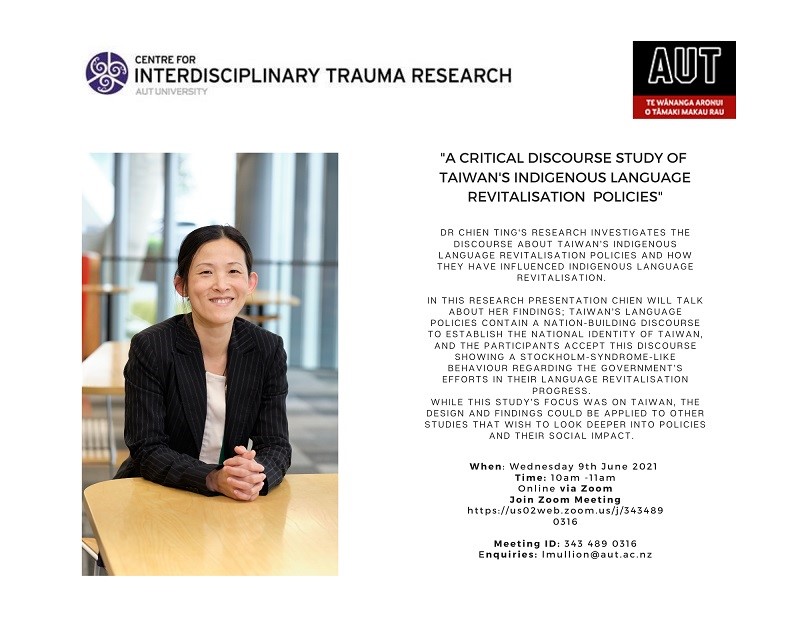 Dr Chien Ting Watch the recording
2020 Colloquium
Engaging with uncertainty and complexity: A secondary analysis of primary care responses to intimate partner violence
Dr Claire Gear, PhD, BSocSci (Hons)
More information
Webinar: Men who use violence
The Family Violence Death Review Committee presented findings from their Sixth Report 'Men who use violence | Ngā tāne ka whakamahi i te whakarekereke.'
This report follows on from key findings and recommendations of previous reports, in that, to ensure victims' safety, a significant focus on men who use violence is required. The report takes a life-course approach, seeking to understand the men's life trajectory from birth to the family violence death event. It intentionally focuses on missed opportunities to change men's development trajectory and the impact of their violent behaviour. The report will be published on the Health Quality and Safety Commission website on 30 April 2020.
In this webinar, members of the Committee will provide an overview of the findings of the report. In addition, contributions will be provided from a lived experience perspective, and from NGO service providers to reflect on the implications of the report for service delivery, funding and capacity building within the sector. The recommendations of the report will also be placed within the context of recovery from the COVID-19 pandemic.
Panelists:
Professor Jane Koziol-McLain, Chair of the Family Violence Death Review Committee
Dr Fiona Cram, Chair of Ngā Pou Arawhenua, the Māori caucus to the mortality review committees
Patumoana Jeremy Eparaima
Tim Marshall
Nicola Woodward
Sign language interpreters will be present during the webinar. The webinar will be recorded and made available via YouTube afterwards. The New Zealand Family Violence Clearinghouse is pleased to host the Family Violence Death Review Committee to present this webinar.
Healing Circles: An evaluation of an intervention for Indigenous mothers and children affected by intimate partner violence
Associate Professor Caroline Piotrowski Director, Violence & Injury Prevention Research Group University of Manitoba
2018 Colloquium
Domestic Violence Documentation Matters: Health Records in the Courts. (Flyer )
Honorable Judge Eugene M. Hyman (Ret.)
Judge Hyman referred attendees to the following resources:
2017 Colloquium
Koleta Savaii (BA, BA Hons 1st Class)
Pacific youth "romantic" relationships and wellbeing. (Flyer ) (Presentation )
Christina Vogels (Senior Lecturer - AUT)
A feminist and 'outsider' in the field: Negotiating the challenges of researching young men. (Flyer )
---
2015 Colloquium
Rebecca Allenby (Recipient of 2014/2015 HRC Ethics Summer Research Award)
Child safety in online research with women experiencing intimate partner violence;
Experiences managing informed consent, confidentiality and safety protocols in the isafe study
On Thursday 17 September 2015 the Paramedicine team held a research forum that showcased outputs from the post graduate paper 589128 - Practice Pursued.Staff worked with the nine students enrolled to facilitate/polish the abstracts and eight out of the nine abstracts submitted to the Paramedics A ustralasia International Conference were accepted. In addition, three additional abstracts submitted by staff were also accepted. Congratulations to the team and the students.
---
2014 Colloquium
Dr Jackie Feather (Senior Lecturer - Psychology) & PhD Student Olivia Taylor
Updating Trauma focused therapy for abused children and their families: An evidence based approach based on international trends and local needs
Dr Julia Tolmie (Chair Family Violence Death Review Committee)
Fourth Annual Report: January 2013 to December 2013
Dr Emma Davies (School of Law, Liverpool John Moore's University)
Child Abuse in Institutional Settings: Reducing the Impact of Conflict of Interest on Children
Alayne Hall (AUT)
Partner violence and attachments between Māori mothers and their children: A Kaupapa Māori approach.
---
2013 Colloquium
Kathy Peri (University of Auckland)
HRC grant looking at what's happened to older people in Christchurch since the earthquakes, both qualitatively and quantitatively.
Rhonda Scherman & Christine Cowan-James(et.al) (AUT)
Sport Wins and Loses and Violence Against Women
Rob Gordon
Trauma and Research
Dr John Read (Psychology Department, The University of Auckland)
'Making sense of madness: brain disorder or understandable reaction to life events?'
Research roadshow
The Faculty of Health and Environmental Sciences' inaugural research roadshow was held on 15 September 2022. There were thirteen presentations, twenty-four exhibitors, six 3-Minute Thesis (3MT) finalist and an array of postgraduate visual abstracts with plenty of ideas exchanged and valuable in-person connections were made. This first-ever research roadshow was attended by over a hundred academic and professional staff and students from across schools and faculties and the CITR team were there in full force!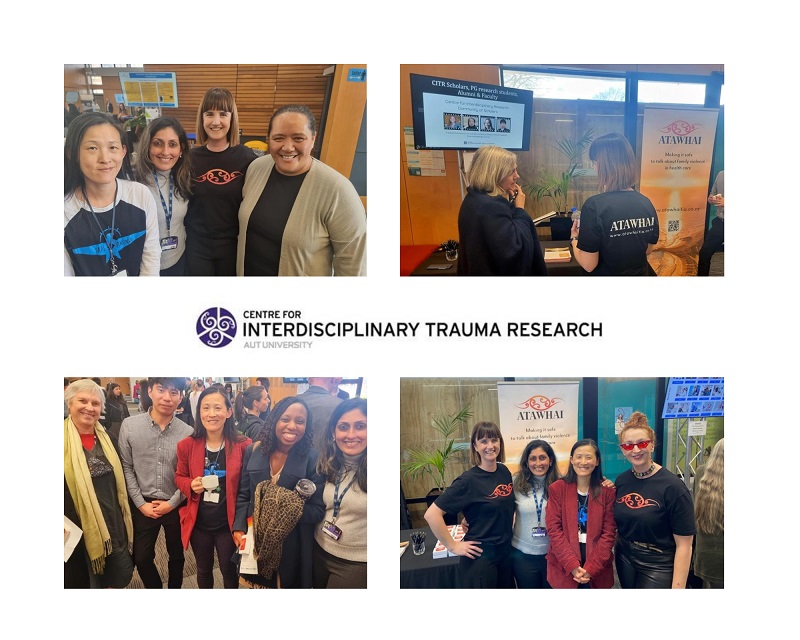 Get in touch
Get in touch if you have questions about our events or would like further information.